English to follow
Hello tout le monde, un peu de news pour vous dire que je couds toujours, à vrai dire, j'ai pas mal de projets. Par exemple j'ai acheté une surjeteuse et je me suis fait des petits t-shirts maison. C'est le pied ce truc. Jusque là je n'en avais pas spécialement besoin, il faut dire que pour l'histo, pas de réel besoin à moins de faire du costume qui a besoin de durer dans le temps, ce qui peut arriver... En plus on n'a pas vraiment à coudre des choses élastiques, au contraire, c'est souvent tellement serré :) Bref par contre, pour faire des vêtements de tous les jours, c'est le pied! J'ai donc testé avec des petits Tank tops. J'ai hâte de voir pour les pantalons! surtout pour mon mari qui fait 1m95 et qui ne trouve jamais un seul froc à sa taille!
Hello guys, some little news to tell you that I'm still sewing, even if I post nothing these days. I've bought a serger to make some homemade tank tops and other everyday clothes (for historical costumes I had no need of this machine, but I'm now ready to make my own everyday clothes I'e made some tank tops, and I can't wait to start trousers! Even more since my man is reaaaally tall and never finds what he needs :D)
J'ai presque terminé les deux tournures pour l'Opéra, et j'ai presque fini la tenue de Vaux (quoi que ça fait 8 mois qu'elle est à l'abandon, si ça se trouve, je vais lui trouver plein de défauts ensuite, et je vais devoir faire une nouvelle robe en mode charrette!).
I've almost finished the 2 victorian dresses for the Opera, and the 18th dress for Vaux (but It's been on hold for months, I'm not sure I'll still love it when I'll have to finish it haha!) I just hope I won't have to make a new one ! :P
Si je ne montre rien de ces projets, c'est parce que j'attends que l'évènement soit passé (je ne sais pas pourquoi, ces temps-ci j'ai envie de faire comme ça. J'ai laissé pas mal de projets d'époque en plan, et du coup je me dis que c'est mieux d'en poster des vraiment finis. Ça me motive plus (?) j'en sais rien. :) Mais le soucis c'est que tout à lieu en même temps avec le retour des beaux jours :D Donc vous risquez de voir fleurir plein de posts en même temps !
I'm waiting for the events to be finished to post the making of the dresses here. I don't know why, I fell like I want to do like this. It motivates me to finish the costumes maybe. The only problem is that these events are all happening at the same time with the sun coming back :D You'll certainly see many posts at the same time :)
Aller, je montre quand même une photo histoire de prouver que je vous baratine pas...
Just to prove that I currently REALLY sew something, here's ONE pic of one of my projets haha :)
A côté de ça ce WE j'ai commencé une robe de Printemps après avoir flashé sur un modèle de Dior. (Il reste la jupe à faire, mais comme c'est une robe pour moi, pour tous les jours, je rumine moins à montrer l'avancée des travaux :) )
Next to these costume projects, I'm also thinking of making everyday clothes, like this dress from Dior that I love. Spring is coming, I want a coat dress! I've started it this WE, only the skirt is remaining :)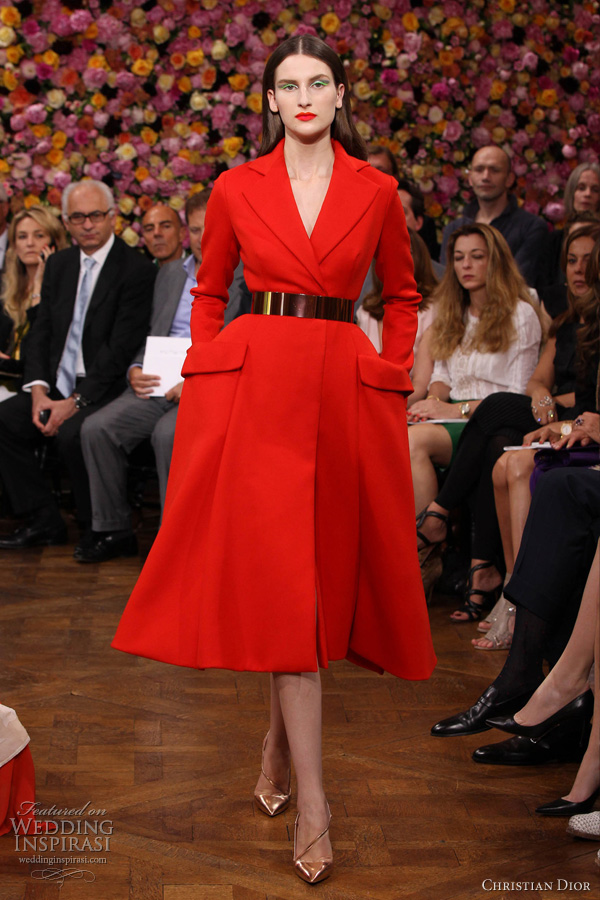 Dans un premier temps j'ai fait la toile de ce patron ancien. Ça marchait super bien après pas mal de retouches, mais je préférais un col plus moderne, moins balaise, (sur la toile je l'avais déjà BEAUCOUP rapetissé) un col de veste actuelle, finalement, plus comme ma première ref. Du coup, j'ai étudié une de mes propres veste et j'ai essayé de la reproduire.
I've found this vintage pattern. The mock up worked well, even if I had to make many changes. In the end, I've realized that I actually prefer a modern tailor collar. So I've studied one of my personnal costume jacket then.
La première toile. Je l'aime beaucoup mais finalement, je préfère le col comme sur ma première inspiration. J'ai cependant reporté les changements sur le patron, je ferai cette robe avec ce col, c'est quasi certain, je l'aime beaucoup! / The first mockup. I love it but it's not what I wanted in the end. But I'm still planning to make a dress with this pattern though :D
Monter un col c'est super tricky! Pas "dur", mais il y a plein d'étapes, et le plus compliqué c'est de faire un truc bien propre finalement. J'ai trouvé ce tuto (après de looongues recherches... la plupart des tutos photos n'aident pas à comprendre quelles pièces sont photographiées -_-) et il est GENIAL! Je recommande chaudement!
To make a tailor collar is not really easy! It's hard to make it clean. I've searched for many tutorials, but on the photos we usually see nothing... which piece goes were, etc. In the end I've found THIS. I highly recommand this video.
Du coup, j'ai vaincu le col tailleur! wouhouuu! Techniquement, ça va, mais je suis un peu déçue, il baille... il ne flottait pas sur ma toile, du coup je ne comprends vraiment pas. M'enfin, je me dis que je ferai mieux la prochaine fois, tant pis c'est trop tard :) Faire une pince c'est mort, maintenant qu'il y a le col tout bien terminé. J'ai aussi patronné les manches moi-même. J'ai suivi un autre tuto qui marche du feu de Dieu! Je le referai très certainement, les manches normales et les manches tailleurs étaient nickelles !
I've vanquished the tailor collar! but I'm a bit disappointed. Even if the collar was good on the mockup, it's too large on the final bodice. WHY? I really don't know. but it's done, it's too late. I'll do better next time. I've also made my own sleeves, thanks to this tutorial. It worked PERFECTLY. For tailor sleeves AND regular sleeves. I'll definitly use it again (french, sorry, but I think there are english subs):
Mes manches / My sleeves
La toile avec une manche tailleur et une manche normale /

The mockup with a tailor sleeve and a regular sleeve.
Les pièces / the pieces
Les joies de la surjeuteuse
ça fait plaisir de faire des trucs propres ! / So cleeeannnn
La doublure du col à l'intérieur du corsage / Interfacing inside the bodice
Le col terminé! Yeahhh / Collar done! yeahhh
L'intérieur / Inside
L'intérieur / Inside
Premier essyaage avec le col trop large T_T Je suis dégoutée! / First fitting with the laaarge collar T_T
Je ne sais pas encore comment je vais faire pour fermer. Pour le coup, je ne sais pas si je mets des boutons. Je me demande comment c'est fichu sur la robe Dior... Les pressions, faut pas avoir peur que ça s'ouvre quoi! Je me dis qu'il y a moyen d'utiliser un zip qui va de haut en bas mais c'est bizarre. Bref, je réfléchis! Je préfère ne pas me fier à la ceinture pour tout fermer quand même haha! Ce n'est pas un peignoir! Un coup de vent et on verrait ma culotte!
I still don't know how I'm going to close this dress. I like buttons, but I'd love to use another method. Press studs... I have no confidence haha! A zipper would be possible but strange. and I don't want to rely upon the belt! It's not a dressing gown... Some wind and here I am in underwears haha!
Et pour finir, les tank tops /
And to finish, the tank tops
:
C'étaient vraiment des tests à usage ultra perso, mais je vais réfléchir à des designs maison pour les prochains, vous comprendrez la méthode actuelle n'est pas forcément fairplay :(. Je serre 3 t-shirts dans un yard tout douuux, et j'ai acheté du jersey noir, du coup le t-shirt me revient à environ $5, ce qui est plutôt génial pour des trucs uniques et au final 100% comme on l'a voulu.
These tests were for a personnal use, I'm going to think of my own designs now. You'll understand that this method is not really fairplay. I've put 3 tshirts in one yard (the fabric is SO soft), and I've bought a black jersey coupon, which make a tshirt costing about $5 which is really good knowing that it's unique and 100% as we want it to look like.